Inspired by the work of Sigmund Freud and Shuji Terayama, WHIST is a surreal dance meets virtual reality, taking you deep into the unconscious mind.
This one-hour experience merges physical theatre, Interactive Virtual Reality, Augmented Reality and an art installation, where instinct and desire will drive you in one of 76 possible directions, as you take an illuminating journey inside a fictional family's fears and dreams.
"An awesome virtual reality dance experience" – The Observer
Warning: contains gore, nudity and sexual content. Ages 16+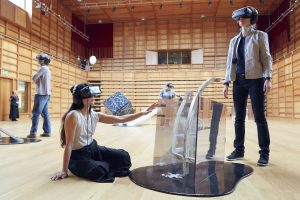 This is a promenade standing performance. Audiences are advised to wear comfortable footwear and will be required to wear a Samsung Gear VR Headset & Headphones during the performance. Belongings will be dropped off in the cloakroom provided.