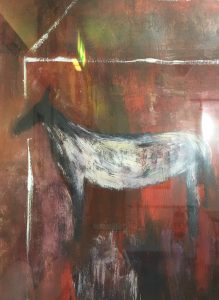 Showcase Exhibition at The Mill
It really is worthwhile calling in to see the showcase exhibition of work by artists at The Mill which runs through until 28th July.
Taking a short time to look at each work reveals the wide range of media and artistic method artists studying at the Mill work in, often with flair and skill.
The exhibition space is light and open.  Works are hung intelligently by the curators.
Some will prefer watercolour, works in pencil ("Sadness" by Veronique Cardinal), faces ("Keith" by Brian Meek), animals (Joe James' "Tiger"), or landscape, monoprint, or collage (Graham Thomas's two works). Everywhere there is much to admire.
I particularly liked a watercolour "Drop Way" by Janet Hall; and "Bad Hair Day" by Lynda Rayner – up front a Highland Bull, but with undertones of a shaman mask. Colin Pettifor's "The Joker" has a similar disturbing essence. The two masks "Kipper" by Shirley Yeomans are amazingly good fun.
My preference is the more abstract and I found myself returning time and again to two works:  Rhonda Nicol's powerful "Spanish Vegetables II" which has coherence, freedom and instinctive mastery of colour.  Daisy Kay-Taylor's "Frankie's Horse" seems to come to us by way of Lascaux or San rock painting in South Africa and Francis Bacon.  It is very fine.
That said, I most admire Emma Nicholson's three works:  "Fish Supper II", "High – a Silent Prayer, and "Juicy Fruits".  These are brave and sensitive works of art. Fortunately they are not in the Royal Academy Summer Exhibition and we can enjoy them right here in Banbury.
by Dennis McWilliams
Image: Frankie's Horse by Daisy Kay-Taylor