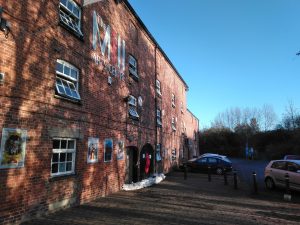 18 November 2019
Thank you to everyone for your support following the flooding at The Mill over the weekend. We're pleased to report that the situation has significantly improved and we have started the clean-up process.
The Mill will be closed to the public over the next few days so that we can ensure the building is back to its beautiful self. We will re-open on Sunday 24th November 2019 with Mark Thomas: 50 Things About Us.
Unfortunately this means that all performances, events and classes up to and including Saturday 23rd November 2019 have been cancelled or rescheduled, including the Banbury Cross Players' production of The Thrill of Love. Ticket holders and workshop participants will be contacted with further information.
Georgia Bradley, Artistic Director, said: "We'd like to say a huge thank you to everyone who has given or offered help over the weekend, and particularly to Banbury Museum for kindly hosting us with temporary office space. It's also been amazing to see the outpouring of support on social media – thank you all for your good wishes. We're sincerely sorry to our customers who may have been disappointed this week, and very much looking forward to re-opening this Sunday."