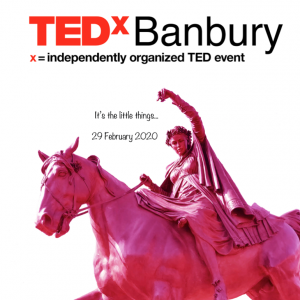 TEDxBanbury is delighted to announce that tickets are now on sale for the first TEDx event of its kind for the town, under licences from the global brand TED (Technology, Entertainment & Design). The Mill Arts Centre is a creative partner of this event.
TED is an annual event that brings together the world's leading thinkers and doers, to share ideas that matter in any discipline. The talks at TED Conference are then made available to watch for free on ted.com. TEDx events are local independently organised events.
Jem Turner, Production Manager said 'TEDxBanbury's dedicated voluntary team have developed a unique programme of speakers from all walks of our community to share some unique stories and ideas. There are also performance pieces planned though out the event day'.
The filmed event is taking place at St Mary's Church, Horsefair, Banbury on 29 February 2020. The talks from Banbury are uploaded by approval from TED to YouTube, which has over 18 million subscribers. Some TED talks have reached 62 million views alone.
This is to be an exciting event for our town, and one not to be missed!
Further information about the event and tickets can be found at www.tedxbanbury.com