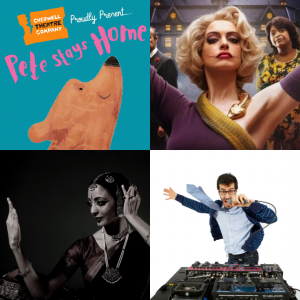 Dance, drama, workshops, films and more – there's something for everyone this October half term!
Coming up this half term…
A perfect early theatre experience for children, and an opportunity for families to share their feelings about having to stay at home. BOOK NOW!
Come along and try your hand at the Indian classical dance style of Bharatanatyam! This intergenerational workshop will be fun for all the family. BOOK NOW!
World record-breaking beatboxer SK Shlomo makes mad music with his mouth. Become one of this sonic superhero's sidekicks in a world of funny sounds, brilliant noises and cool music, whether you're aged 1 or 101. BOOK NOW!
Enjoy this reimagination of a Roald Dahl's classic with the whole family. Audiences are encouraged to dress up in their most fearsome Halloween costume for the occasion. BOOK NOW!
Coming soon…
Spy Monkey is a fun movie-going experience specially designed for young audiences, with a difference! Meet the Spy Monkey film characters, uncover a secret trail, participate in Hip Hop and contemporary South Asian dance workshops and more. BOOK NOW!
Developed in Iceland, Snow is a magical, immersive, multi-sensory adventure with live music and puppetry. The perfect introduction to live theatre, and the perfect Christmas adventure for 0-5 year olds and their families. BOOK NOW!
Four timeless stories brought to life in one delightful show – including special addition of Eric Carle's 'Dream Snow'!
Dive into Eric Carle's bright and colourful world as his beloved stories are transformed from page to stage, using a menagerie of 75 lovable puppets and charming music. Featuring your favourite titles: Brown Bear, Brown Bear, 10 Little Rubber Ducks, Dream Snow and of course, the star of the show, The Very Hungry Caterpillar which celebrated its 50th Birthday in 2019. BOOK NOW!