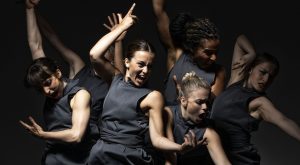 Following Chhaya Collective's performance of KHAOS & HYMNOS at The Mill on Thursday 10th March 2022, we are delighted to share a fantastic review by Maggie Watson of Oxford Dance Writers.
"The evening ended with phenomenal energy as all six dancers, their hair loose, and freed from their drab grey overalls, brought the performance to a tumultuous climax which received a standing ovation.
It was a huge treat to see a new, truly communicative, dance work that was fully costumed and professionally lit, with live original music.  Chhaya Collective, which is led by Kay Crook, is based in Exeter, and this was their first visit to Oxfordshire:  I hope that they will come again."
Read the full review on the Oxford Dance Writers website!