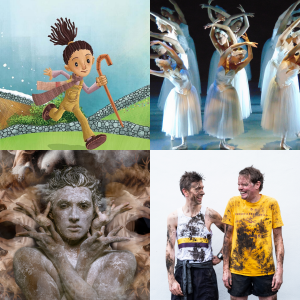 We're delighted to launch The Mill's new brochure for Summer 2020!
In particular, we're excited to share details of our expanded dance programme this season, with outstanding performances from internationally renowned dance companies.
In a twist to the classic romance, Juliet & Romeo by Lost Dog Dance explores love, loss and longevity, with the star-crossed lovers in the throes of a mid-life crisis. Meanwhile another classic love story is brought to life by Vienna Festival Ballet, whose full company return to The Mill with the magical Swan Lake.
We're also thrilled to welcome award-winning choreographer Seeta Patel, who re-imagines the iconic ballet The Rite of Spring in the powerful classical Indian dance style Bharatanatyam.
In story and in song, These Hills Are Ours is the story of what Dan and Boff found out while running away from the city they lived in. It's about escaping it all by running to wild places. It's a celebration of wild places and our freedom to roam them.
Later this summer, The Adventures of Bo Peep is a brand new and magical adaptation of the well-loved nursery rhyme. It's a perfect theatre introduction for your little ones with an interactive story and sensory learning.
Find out more about our brand-new set of classes and workshops, including Mindfulness, Watercolour Explorations, Jewellery Making and Parent & Baby Yoga.
We're also running Talk About Dance, a fun, discursive session giving an insight into the creative process of making dance in relation to Seeta Patel's The Rite of Spring.
Find out more about our live shows and our classes and workshops.
Please feel free to contact our friendly Box Office team on 01295 279002 for more information or to book tickets.